Introduction
When producing thin-gauge sheet metal components using the photo etching process [1], it can often be beneficial to tab parts into the surrounding sheet fretwork for a whole host of reasons that we will outline in this article. This can benefit both you the customer, and Qualitetch's processing speeds in a "win-win" scenario for all ensuring we can keep our processing costs as low as possible. This is just one of several advantages that photo etching can offer over rival processes.
Tabs are essentially a small connection point between the metal sheet frame and the parts required, which can ensure a faster turnaround of parts. By using tabs, we are then able to bypass more complex loose UV resist stripping operations post etching, which can be more time consuming and add to the risks of producing parts with staining or creasing, particularly on very thin or delicate metal components.
As mentioned above, loose parts are required to be stripped by hand, which can be considerably slower than tabbed parts, which are able to benefit from Qualitetch's semi-automated stripping line. Further to this, any parts requiring further processing such as plating or coating can also benefit from additional reductions in costs, as they are easier to process and do not require jigging or wiring of loose parts.
Whilst we appreciate tabs are not always acceptable or appropriate for customers metal part component designs, it should be considered at the design stage if suitable, as there may well be a cost benefit.
Some reasons why tabs may not be acceptable include: parts having an inner or outer bore that must be a flush fit with no tabbing, particularly with washers or shims. Parts could be too thick for tabs and may leave a witness mark too large for the customers needs, as typically a tab can protrude up to material thickness unless in-board.
We do, however offer many different types of tabs. This includes both flush-face, in-board or protruding that can be considered for your designs depending on material thickness types, so please discuss this with one of our technical sales engineers for more advice.
Advantages however ensure that Qualitetch can continue manufacturing post-etching by sheet, ensuring that the UV resist stripping, dimensional & visual inspections can be processed in a single operation, rather than individually. When this is then applied to several hundred or thousand metal parts, you can easily see how tabbing can offer an obvious timing improvement and hence save you money.
As a result, previously problematic components can be carried out considerably faster with no compromise to quality, which enables our customers to benefit from both cost and lead-time reductions.
Here at Qualitetch we offer multiple techniques to manufacture your thin-gauge sheet metal components [2] tabbed into sheet, and our engineering sales team are on-hand to advise accordingly.
CASE STUDY: RFI Shielding Cans.
A global electronics OEM required a series of flat blank nickel silver RFI shielding cans [3] with surface depth-etched score lines to assist with hand folding. The request was for a high quantity production batch of 10,000 parts required with a fast turnaround lead-time of under 2 weeks, whilst remaining competitive to other processes such as metal stamping or punching [4].
Initially, they approached a competitor who had opted to supply parts loose, which raised concerns to the OEM who were dissatisfied with the long lead-times offered.
The solution: Tabs. By tabbing the parts into sheet, we were able to manufacture these parts considerably faster than the requested lead-time whilst remaining competitive.
Tabbing these component parts into sheet also helped to reduce process related scratches, which proved to be advantageous as these parts were designated for an aesthetic purpose to show a customer logo and part number.
A further issue presented itself regarding the tabs upon review, as the acceptable location required the tab witness to be flush with external surface profile in order to prevent registration issues with the PCB board on assembly. Offering in-board tabs, meant that we were able to supply the parts conforming with this request, without any compromise to structural integrity. See below FIG 1.1 & 1.2 which show the visual difference between Qualitetch's standard & inboard tabs
For more information give us a call today and let Qualitetch help manufacture your ideas in metal on 01354 658787 and speak to our team. Alternatively, you can find us at sales@qualitetch.com
Standard Qualitetch Tab on outer edge profile                                                                                       FIG 1.1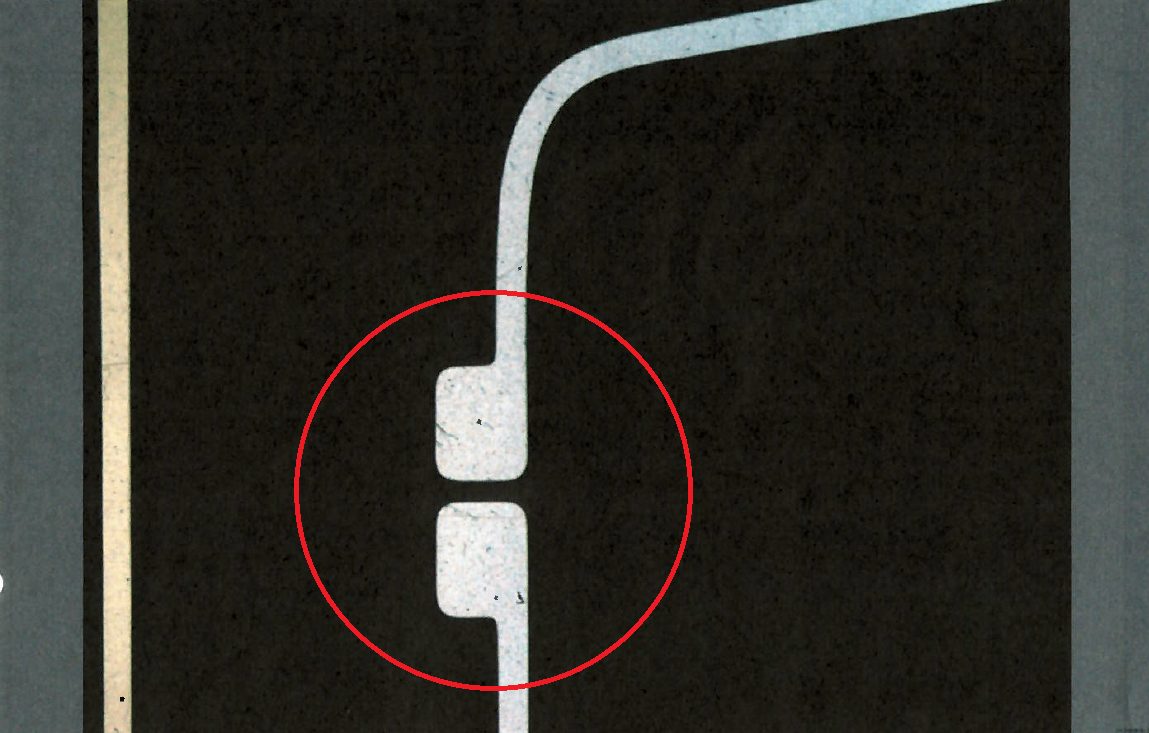 Inboard Qualitetch Tab                                                                            FIG 1.2